Alan Jackson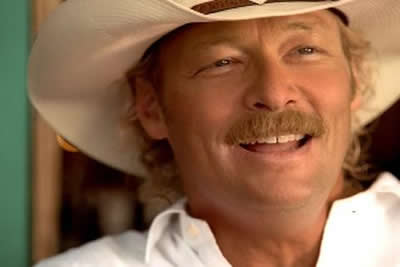 Latest News
'Angels And Alcohol' out now on CD or Vinyl.
Alan Jackson Biography
In terms of popularity and sales in Country music the 1990s, Alan Jackson was second only to Garth Brooks. Ten number one Billboard Country Albums and twenty-four number one Country Singles are testament to that commercial success Alan is one of the most successful and respected singer-songwriters in music. He is in the elite company of Lennon and McCartney among songwriters who've written more than 20 songs that they've recorded and taken to the top of the charts (in the USA).
Jackson has sold nearly 60 million albums worldwide, topped the country singles charts 35 times, and scored more than 50 Top 10 hits. He has written or co-written 25 of his 35 #1 hit singles. Jackson is a 17-time ACM Award winner, a 16-time CMA Award recipient, and a two-time Grammy-winning artist whose songwriting has earned him the prestigious ASCAP Founders Award and an induction into the Nashville Songwriters Hall of Fame as a 2011 Songwriter/Artist inductee.