Little Big Town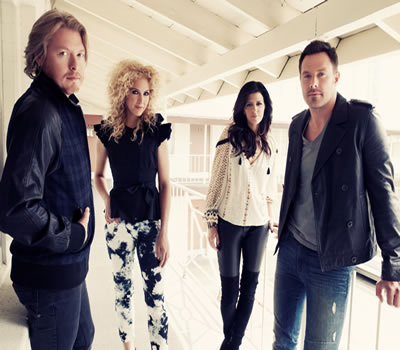 Little Big Town Biography
Little Big Town's song writing and complex vocal interplay on A Place To Land is the result of almost a decade of deep friendship and camaraderie of its members. Fairchild and Schlapman go back even farther, having begun singing together while students at Samford University in Birmingham, Alabama. Both moved to Nashville in the mid 1990's, and invited old Alabama friend Westbrook to join them in 1998. Sweet completed the band later that year. "There's a special connection between the four of us, for whatever reason" Westbrook says. "Who knows what really happens? You like to think that maybe it was meant to be, and I really do believe that. This group of people came together for a purpose".
The bands uniqueness made it hard to sell at first in the ever cautious country music field, but Little Big Town pushed forward with charismatic determination. Their patience paid off with 'The Road to Here', which has sold over 1 million copies and produced four top 20 hits including the top 10 smash 'Boondocks' and the top 5 'Bring It On Home', 'Good As Gone' and 'A Little More You', and earned them nominations at the Grammy Awards, the CMA's the ACM awards and the CMT Music Awards.
They toured with superstars like George Strait, Kenny Chesney, Keith Urban and Martina McBride, and collaborated onstage with rock legend Lindsey Buckingham for an episode of CMT's Crossroads. Another musical luminary, John Mellincamp, invited them to sing on his Freedom's Road album. (Fairchild is also prominently featured on Mellincamp's new 'Life, Death, Love and Freedom' and in his 'My Sweet Love' video.)
Along with those triumphs came personal changes: all the members have married since 2006 (Fairchild and Westbrook to one another), and Schlapman and Sweet are both parents of baby daughters. But there have been challenges as well, particularly the groups exit from its former record label just after the initial release of 'A Place To Land'. The members entertained offers from several labels before settling with Capitol Records Nashville. 'Looking at the roster there and the things they wanted to do, we felt that's where the music belongs'; Fairchild explains 'We went with a gut feeling, which is what we have always done'.
While the group was sorting out its business dealings, yet another unexpected twist in the tale appeared. The all-star cover of the 1986 Dream Academy hit 'Life in a Northern Town' intended as a video only memento of the group's stint on 2007's CMT on Tour, became a surprise radio hit due to spontaneous listener demand. With a new version of 'A Place To Land', the track makes its appearance on the Little Big Town album. 'The phenomenon of how it happened was really awesome', Sweet says. 'It's been amazing'.