Marty Robbins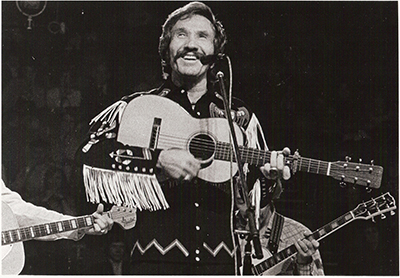 Latest News
20th Century Drifter - The MCA Years.
Marty Robbins Biography
Most die-hard country music fans are familiar with the music of Marty Robbins. His gunfighter ballads are legendary, whilst songs like Singing The Blues, Devil Woman, Begging To You, Tonight Carmen and Don't Worry have long been recognised as country classics. His successful recording career, which saw him score 16 country number ones and a further 30 top ten entries, lasted for 30 years. For 27 of those years he was signed to Columbia Records, but for a brief three-year period, from 1972-75, he recorded for Decca/MCA Records. This is often referred to as his 'lost years.'
He had recorded successfully for Columbia from 1952 through until the end of 1971 when he shocked the country music fraternity with the announcement he was to change labels. For years Marty had been one of the biggest country music stars signed to Columbia. He was still very much at the top of his game: He'd hit number one with the Grammy winning My Woman, My Woman, My Wife in 1970 and scored a further five consecutive top 10 hits over the next two years. But the singer was far from happy with Columbia, feeling that he was being sidelined as all the major promotion efforts appeared to be for label-mates Johnny Cash, Ray Price and Lynn Anderson.

The contract he landed with MCA/Decca offered Marty complete artistic freedom, including producing his own recordings - several years prior to Waylon Jennings achieving this with RCA - and also possible film roles via Universal Pictures. Marty's first session for his new label took place on June 15, 1972 and over the next three years he released 39 titles and also recorded a further 15 titles which were not released. For the first time 37 of those released titles are collected on this special two-CD set. Two titles - Shotgun Rider and These Are My Souvenirs-reverted back to Marty along with the 15 unreleased ones when his MCA contract expired. He took all 17 of those recordings with him when he signed a new contract with Columbia in late 1975.

Martin Robertson was one of a pair of twins, born on September 26, 1925 in Glendale, Arizona to poor second-generation Polish immigrants. Throughout his childhood he lived a kind of gypsy lifestyle, the family moving around the Arizona desert, often living out of tents rather than a house. He made the transition from country to country-pop in the mid-1950s with such crossover hits as Singing The Blues, A White Sport Coat and The Story Of My Life. He continued to ring the changes throughout the 1960s with his cowboy ballads interspersed with folk-country (Ribbon Of Darkness), Caribbean (Girl From Spanish Town), Mexican (Tonight Carmen), pop balladry (Love Is In The Air) and even Japanese (I-eish-tay-may-su). Though he was highly successful, Marty was very insecure. He had suffered abject poverty throughout his childhood and was concerned that his music career could be fleeting. He mistrusted banks, industry people and fellow artists. When he first moved to Nashville as a relatively new artist who wrote his own songs, several big name stars - Faron Young and Webb Pierce were just two-offered to record his songs if he'd give them co-writing credits. Marty declined, and though he was eventually signed to Acuff-Rose as a songwriter, it wasn't too long before he set-up his own publishing companies.

It was this insecurity and mistrust that led to him making the move from Columbia to Decca in early 1972. "I certainly was not happy," Marty told me in 1976, "I couldn't get the records out I wanted and they were very slow in promoting them. I was just like a small fish in a big pond and it seemed like a good time to move on. As it happened I feel that I wasted three years of my career at MCA. I was experimenting, trying to find a direction. Now I'm back home where I belong with Columbia and I feel we've both learnt a lot from my leaving." Despite his assertion that he felt he had wasted his time at MCA/Decca, he had in reality created a fine body of work there, with several of his recordings being on par with his finest Columbia ones. He released three albums and nine singles, four of which made the country top ten, the most successful being Walking Piece Of Heaven, which reached number six in early 1973.

Alan Cackett www.alancackett.com