Randy Rogers Band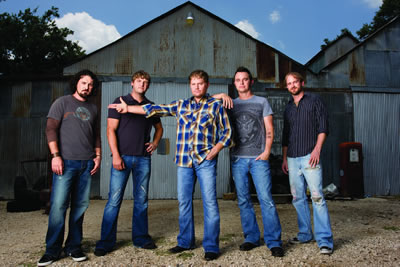 Latest News
'Trouble' available to download on itunes, Amazon and all major digital retailers.
Randy Rogers Band Biography
From an early age, music was an important part of Randy Rogers' life. Rogers was raised in Cleburne, Texas, and his great-grandmother taught him how to play the piano at age six; by 11 he was writing his own songs and learning chords on the guitar. After some time spent in a backing band, Rogers decided that he wanted to front his own group, and soon he and some friends from college formed the Randy Rogers Band, releasing their debut album, Live at Cheatham St. Warehouse, recorded at the bar of the same name in San Marcos, Texas, shortly after their first practice. In 2002, their first studio album, Like It Used to Be, came out, followed by 2004's Rollercoaster, which featured the by-then solidified lineup of Geoffrey Hill on guitar, Jon Richardson on bass, Brady Black on fiddle, and Les Lawless on drums. The next year, RRB released Live at Billy Bob's Texas and also signed to major-label Mercury Nashville, which issued Just a Matter of Time in 2006. Rolling Stone magazine ranked them alongside such artists as U2 and the Stones in its list of Top Ten Must-See Artists in the summer of 2007. They grossed $2.5 million in touring for the year, a staggering figure for a still-developing act. They also shared stages with Willie Nelson, the Eagles, Gary Allan, and Dierks Bentley. They followed that banner year by releasing a self-titled album produced by Radney Foster in 2008, followed by more extensive touring. They moved over to MCA Nashville for 2010's Burning the Day, which was produced by Paul Worley and preceded by the single "Too Late for Goodbye." Both the single and album performed well, with the latter peaking at eight on the Billboard charts.