Shooter Jennings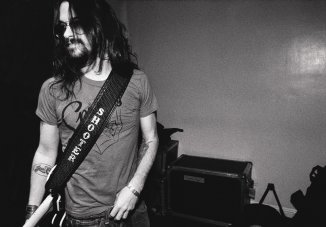 Latest News
no news currently
Shooter Jennings Biography
Shooter Jennings
has country music in his blood. The only child of country legend Waylon Jennings and Jessi Colter, Shooters early years were spent on his parents tour bus . "I thought everybody's family was like mine," he remembers. "We'd check out of hotels and travel all night. Songwriting, shows, stage setups, the band, the crew, the bus, the trucks - all that stuff was normal. And I loved it. To this day I sleep better on the bus than anywhere else."
By age five he was playing drums. Between tours, back in Nashville, he took piano lessons, didn't like them, stopped, then started teaching himself and enjoying it more. He picked up his guitar at fourteen and hasn't put it down since. He and his dad recorded a few things together when they happened to have some microphones set up and the tape recorder plugged in. Then at sixteen he discovered rock & roll.
Driven by a sound he heard coming together in his head - something like Lynyrd Skynyrd mutating into Guns N' Roses - Shooter left a couple of years later to seek his fortunes in L.A. where he assembled a band and named it Stargunn. For six or seven years they tore up the local clubs, built a rabid following, earned raves from the local music press...but something was wrong. "I loved rock," he explains. "I loved its 'f-you' attitude. But that Hollywood thing started to get to me. The more I went to all these crazy Paris Hilton parties, the more I was like, 'Man, this sucks!' I felt like everybody I'd known back in Nashville was looking at me like I was some big Hollywood asshole. I was posing as a rocker - a country guy trying to be something he wasn't."
On March 30, 2003, Shooter dissolved Stargunn and went to New York City to spend some time with his girlfriend and sort out what he wanted to do next. It took just a few weeks for Fate to show up, as it often does, with an opportunity, in the form of an invitation to play at the House of Blues in May. "I was certainly not ready," he remembers, "but I said yes just to inspire my ass to get a band together and try. We did that show, and it wasn't terrible, but it was enough to pump me up and get me to start writing the songs I wanted to write."
Shooter returned to L.A. and put together a second band, this time with solid country roots, which he named the 357s. Jennings and the band holed up in the studio, eventually emerging with a rambunctious country album called 'Put the "O" Back in Country', which was released in 2005. With this debut, Shooter drew on his great legacy and wealth of talent, yet managed to put his own stamp on his sound.
Shooter recently played the role of his father in the Oscar winning Johnny Cash biopic 'Walk The Line'. On his new album 'Electric Rodeo' Shooter continues to assert his blend of rocked up country roots, keeping one foot firmly in the past his father was so instrumental in creating, the other stepping out boldly into new territory.