Toby Keith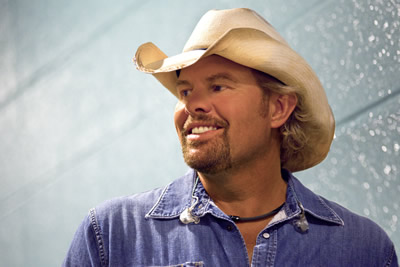 Latest News
"35 MPH Town" out now.
Toby Keith Biography
There's nothing any more remarkable about Toby Keith's thirteenth studio album than his twelfth. Or his tenth. Or his self-titled 1993 debut. As he's done for the last 16 years, Keith has gone to work playing the shows, writing the songs and recording the album that, in this case, became American Ride. Like the hard-working fans who buy his music and the soldiers he visits every year on his USO Tours, he takes his job seriously, gives it his all, gets up the next day and does it all over again. Of course, Toby Keith just happens to be doing it at the highest levels of entertainment industry success. In fact, Keith's career is a model of consistency - and consistent excellence - that's arguably unrivaled in all genres of music. His 1993 debut was a No. 1 Billboard Heatseeker. His next four albums all reached at least top 10 on the Country Albums chart. Every album since, starting in 2001 with Pull My Chain, has reached No. 1. On the singles charts, he's scored a #1 hit every year since 1993. Across 44 single releases and 20 album releases including four hits collections, he's only released six singles he didn't write. Every year, year-in and year-out, since 1993, Toby Keith has shown up at the very top of country music. And with American Ride, his 16th studio album, he's done it again. "It's the same as always," Keith says of the album making process. "I do most of my writing on the road while I'm touring. As usual, I'll have guys out to write with. Most of this stuff was written either by myself or with Bobby Pinson. And each year it's my new crop. I'm probably 10 or 12 songs into writing for the next one. What we wrote last year ended up on this album, and what we're writing this year will go on the next one. We put the best 12 or so down in the studio and move on." And it is that matter-of-fact routine that is so extraordinary. American Ride's title track is already a No. 1 smash, rising faster than any Keith release since 2001's "Courtesy of the Red, White And Blue (The Angry American)." Like "Courtesy," "American Ride" has tapped the collective consciousness of a nation in distress, this time providing music fans with a wry rallying cry. Unlike the 2001 hit, "Ride" was not written by Keith, though it sounds like it could have been. "That's the secret," he says. "Over 16 years I've only released a handful of singles that weren't mine, but I think all of them were songs people were sure I wrote. And that's the only way I'll record something from the outside. I wouldn't do something that didn't sound like me as an artist."