Ashton Shepherd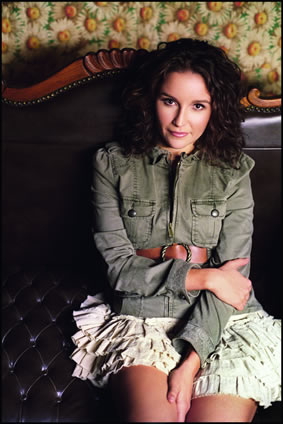 Latest News
Ashton's debut album Sounds So Good is out now.
Ashton Shepherd Biography
Country singers often joke that they're a "10-year-overnight success" because no one really makes it in this business overnight, right?
That's generally true - but some have a faster route to success than others. About two years ago, Ashton Shepherd was a young housewife and mother from south Alabama who wrote songs and sang them in her backyard shed.
The extent of her professional experience was playing bars in a makeshift band with her husband, Roland, and brother-in-law, Adam Cunningham; Shepherd and Roland both played guitar, while Adam played bass.
She won a talent contest and recorded a three-song demo that by fluke landed her an audition with Luke Lewis, chairman of Universal Music Group Nashville, in January 2007.
"We signed her immediately and sent her in the studio with Buddy Cannon (producer) before she could become affected by Nashville or any of the trappings of the business," said Lewis, the label chairman. "She had plenty of material so we didn't have to hunt for songs."
The result is Ashton's debut album Sounds So Good.
Her distinctive sound comes from her family farm in the tiny hamlet of Leroy, Alabama. More specifically, it comes from a backyard cabin called The Pickin' Shed. That's where this young wife and mother crafts her extraordinarily insightful country songs.
Unlike many country singers, who leave their small towns to create a new life under Nashville's bright lights, Ashton has chosen to remain in her home state among the people whom she has always known, continuing to write songs about everyday experiences in a simple yet powerful way. She's a Southern charmer with common sense and a quick wit who is comfortable with who she is and how she lives her life.
Critics and fans alike have been drawn to the authenticity of this small-town sage whose traditional country music strikes a chord with Americans everywhere. She captures the life of those who live very differently than the ones depicted on reality shows and in magazines. She has emerged as a feminine voice of the working class and a role model for women whose lives are defined more by their aching feet and shoulders than the color of their collars, for the women who toil all day at offices and factories, only to face more work at home to take care of their families.
Indeed, Ashton herself is a working mother - she has a son, James, and a daughter Raden - who works on her farm when she's not touring and sells the results of her labor from a makeshift vegetable stand out of the back of a truck. She's also become a business woman who has learned to make the best decisions for her career and life.
Song by song, she has used these common threads to sew a musical patchwork quilt of a woman's soul. With a blend of conviction, humor and sass, Ashton presents the image of a woman who maintains a deep loyalty to her family, but also has the strength necessary to stand up for herself and what she believes in.