Billy Ray Cyrus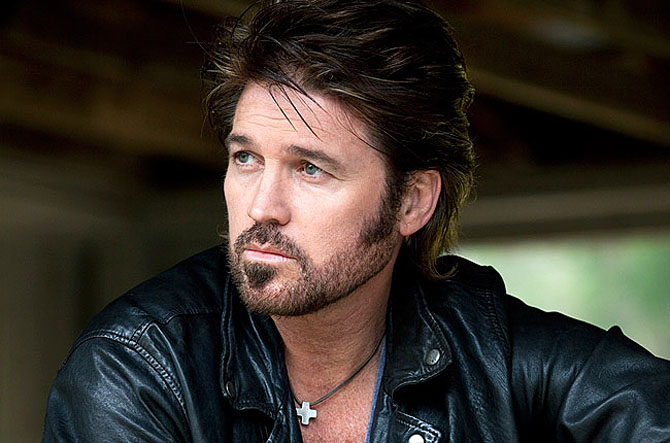 Latest News
Billy Ray Cyrus - The Definitive Collection
Billy Ray Cyrus Biography
When Billy Ray Cyrus burst upon the American country music scene in 1992 with Achy Breaky Heart, he was the butt of heavy criticism and cruel jibes about his musical ability. His hip-throbbing performances that made women weak-kneed and men wish they wore his tight jeans, completely overshadowed the music. The easiest thing for Billy Ray to have done back in 1993 would have been to go back into the studio and cut more songs like Achy Breaky Heart. But he has never recorded anything vaguely resembling it, as this compilation of his Mercury recordings shows.
The overnight success of country hunk Billy Ray in the summer of 1992 became known as the 'yrus Virus', as his popularity spread across America. The 30-year-old sex symbol turned country music upside-down with his debut single, Achy Breaky Heart, the first country single in more than six years to make the American pop charts. It sparked off a national dance craze with the Achy-Breaky dance becoming a massive hit on video and in dance clubs and caused quite a controversy within conservative country music.
Born and raised in Flatwoods, Kentucky on August 25, 1961, Cyrus came from a Southern gospel family, making his singing debut in his father's gospel group. His parents were divorced when he was six years old and he led an aimless type of life, drifting through colleges without graduating. It wasn't until he turned 20 that he picked up a guitar and started to think about a music career. He formed his own Sly Dog band in 1983, performing a mix of Southern rock, country and blues in clubs around Kentucky, Ohio and the Virginia border. He travelled to Nashville many times between 1986-1990 without any luck. Opry veteran Del Reeves produced some demos on him, but were turned down by all the major labels.
It was Billy Ray's dynamic stage show that eventually led to a record deal with Mercury Records in 1991. The dance-inspired Achy Breaky Heart was given a pop-promotion that saw Cyrus take off, with his debut album, SOME GAVE ALL, going number one on the pop charts as it raced to multi-million sales. Controversy surrounded Cyrus and his sudden fame, and though dubbed a one-hit wonder, he scored further hits with Could've Been Me, She's Not Cryin' Anymore, In The Heart Of A Woman and Somebody New. His second album, IT WON'T BE THE LAST, also went multi-platinum, though his third release STORM IN THE HEARTLAND did not reach such high sales figures.
Not surprisingly, the jagged trip down the other side of his climb to success left Billy Ray feeling wrecked, wrung-out and wracked. Since all that commotion and huge commercial success, the singer paid the price for his decision to maintain musical integrity and not just rework the Achy Breaky Heart commercial formula. Though his album sales plummeted, it must be remembered that few acts deliver a 10-million-selling debut, and even fewer maintain those kind of sales figures with subsequent releases. He steadfastly held on to a core of fans, and maintained a highly successful and lucrative career that has embraced acting alongside his singing and songwriting.
Whatever some people may have wished back in 1993 at the outset of his career, he refused to go quietly-or go at all, for that matter. Maybe it was like a reverse backlash-if you can only love a guy for so long, maybe you can only hate him for so long, too. For sheer creativity and a complete reinvention of self, no one can deny that his 1996 album, TRAIL OF TEARS, was a critical and artistic success. Rather than falling back on the Nashville songmill, he wound up making music for the most noble of reasons-because he really believed in it.
Billy Ray shot back to the top with 1998's SHOT FULL OF LOVE and the huge radio hit Busy Man. Following a seven-year stint with Mercury that saw him sell more than 15 million albums, he changed labels and moved over to Monument (the label that launched the Dixie Chicks). 2000's SOUTHERN RAIN was a superb album from a performer who had made a habit of making some of the finest music coming out of the Music Row studios. Wisely he capitalised on the international success of Achy Breaky Heart, undertaking successful European, Australian and even South American tours. In Brazil he is a multi-million selling act and has played vast arena shows to 70-plus thousand screaming fans.
He has also taken to acting and appeared in 2001's Mulholland Drive and alongside Kim Basinger in Elvis Has Left the Building, in which he played a bit of a genius of a goofball bus driver. But it was his long-running role in the highly successful American television series Doc that sealed his acting reputation. Filmed in Canada, the series ran for six years and 88 episodes.
A passionate family man with a deeply religious upbringing he lives on a 500-acre estate, south of Nashville near Franklin, in a big old plantation-style house with wife Tish, and their five kids. In between the Doc TV filming, he continued recording, moving closer to his gospel roots with THE OTHER SIDE for Christian label Word Records in 2003.
Five years after beginning filming the Doc TV series in Canada, Billy Ray finally had the opportunity to be back home with his family in Tennessee. To celebrate, he recorded HOME AT LAST for the Walt Disney label. The album coincided with his daughter Destiny Hope landing the role of Hannah Montana in the TV series of the same name. Taking the name Miley Cyrus, she became an international superstar and Billy Ray Cyrus was relegated more into the background as 'Miley Cyrus' dad'.
He was more than happy to bask in his daughter's fame, appeared in the Hannah Montana TV series and continued with his own music and acting career. He appeared on the America's Dancing With The Stars TV series, starred in Jackie Chan's movie The Spy Next Door and appeared on Broadway in Chicago. On the music front he recorded BACK TO TENNESSEE for Lyric Street Records in 2009 and more recently came I'M AMERICAN in 2011, CHANGE MY MIND in 2013 and in 2014 he teamed up with Dionne Warwick for the duet Hope Is Just Ahead.
Alan Cackett