Blake Shelton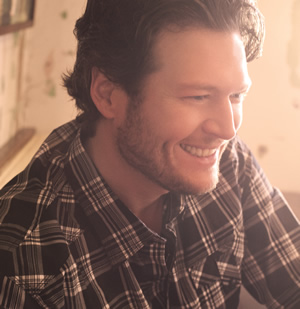 Blake Shelton Biography
Two SIX PAKs in, Blake Shelton is feeling as good as he's ever felt about his career.
"This has been an amazing year for me," he says. "If you would have told me when I started out that I would have two major awards, a CD in the upper reaches of the charts, a sold-out show at the Ryman Auditorium and a career that's generally on fire, I would have thought you were pulling my leg."
He's got all that and more. The SIX PAKs, of course, are Blake's two most recent CD's, innovative ways to get music into the hands of his fans more often. The first, Hillbilly Bone, included a title track that sped to the coveted #1 spot on the singles charts and won Blake two major awards--Vocal Event of the Year from the Academy of Country Music and Collaborative Video of the Year (with his partner in crime Trace Adkins) from CMT. The SIX PAK CD debuted at #3 on Billboard's all-genre Top 200 chart and #2 on the Top Country Albums Chart, and kicked his already humming career into overdrive.
Now, with the release of the folllow-up, All About Tonight, Blake is ready to take it up yet another notch.
"No one should be surprised that I love a good six-pack," says the Ada, Oklahoma, crowd-rocker, "and when you've got a party crowd, if one is good, two is better."
Blake has hit a sweet spot with these latest releases, drawing on the talents of songwriting buddies like Rhett Akins, Dallas Davidson, Ben Hayslip, Jeff Bates, Tony Mullins and Craig Wiseman. All About Tonight continues Blake's tradition of capturing on record both the touching and the rowdy aspects of country life.
Celebration has seldom sounded better than it does on "All About Tonight," which kicks the project off in a party mode. "That Thing We Do" and "Got A Little Country" testify to the pleasures of country love with the heat and the energy turned up. "Who Are You When I'm Not Looking" takes love from another angle, from that deep-down hunger to know and share a partner's most intimate moments, with Blake again reminding us of his power as a vocalist.
As he's done before, Blake teams up here with fiance Miranda Lambert for "Draggin The River," a song about two young lovers with a daring plan for eloping in the face of a daddy's displeasure at the prospect of their marriage. Miranda also makes an appearance as a writer on the project, as she and Hillary Scott contribute "Suffocating," which features another powerful performance by Blake.
Blake has visited the #1 spot on the country singles chart no fewer than six times, with three of those coming in the last three years as his career has reached cruising altitude. Both "Home" from Pure BS Deluxe and "She Wouldn't Be Gone" from Startin' Fires hit the top, and he has not had a single that peaked outside the Top Ten since 2007.
He is clearly making top-flight music that is resonating with a wide and rowdy country audience. At a time where economics and political correctness are putting a squeeze or two on the average blue-collar American, Blake is holding aloft a bright torch of freedom, fun and music, which is evident on record and perhaps even moreso on the concert trail.
"The crowds are great," he says, flashing his characteristic grin, "but, then again, we're there for the same reason-to have a great time and share music that tells our stories and celebrates our lives."
And while he is blazing trails with SIX PAKs, setting an example other artists have begun following, he is re-inventing the way country's rowdier acts are connecting with fans via social networking. Through Twitter, youtube and the like were once thought to be the domain of younger, more pop-oriented artists of the feminine persuasion, Blake has recreated the genre in his own image. His tweets are irreverent, edgy, timely and hilarious, and they have become the talk of fans and industry alike. And his youtube videos? Well, with titles like "Top Six Country Haircuts," you know you're dealing with a mind that has been twisted just right, and you'd be hard-pressed not to find them hilarious.
Blake has also had a breakthrough year on the personal front. Though he is perhaps rather rough-hewn when it comes to polite society-It did not take a lot of work to fit his personality to the plot of the "Hillbilly Bone" video-he has capped his relationship with fellow chart-topper Miranda with a conversation with her father-a moment they revisit with a great deal of hilarity on the SIX PAK's only duet, "Draggin' The River"-and a formal proposal and ring. It was old-fashioned redneck chivalry at its finest.
Things have never looked better for the young man who left Ada, Oklahoma, at 17 for Nashville after encouragement from Mae Axton ("Heartbreak Hotel"). He met another legendary writer, Bobby Braddock ("He Stopped Loving Her Today"), who helped him develop his formidable talents. The going was slow initially, but Blake finally signed with Warner Bros. and in the wake of an impressive debut, he was on his way.
Now, with the release of All About Tonight, the career that kicked off with the six-week #1 smash "Austin" and has included two additional multi-week chart toppers with "The Baby" and "Some Beach". is on its best roll yet.