Dierks Bentley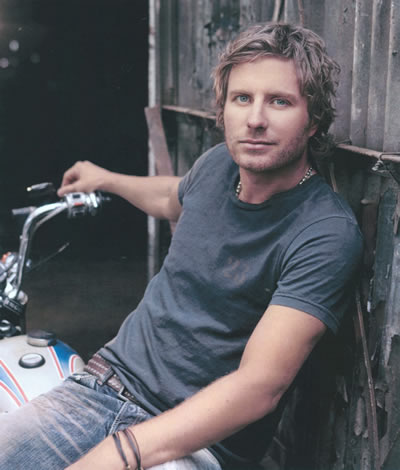 Links
Dierks Bentley Biography
Not so many years ago, he was singing for tips in Second Avenue bars and soaking up country music history at his day job as a tape librarian at the late, great Nashville Network. Today he's among the most successful and relevant country singers in the business. They say Nashville doesn't work like this anymore - that talented strivers with no connections don't stand a chance. But Dierks Bentley proved that Music City's engine still runs and that as a place for education, inspiration and validation, it has no parallel. Critics find him credible. Fans pack his shows. There are precious few new artists recording hits today about whom that can be said.
Bentley's kind of country has never been straight-up-the-middle. Instead, the Arizona-native grew up on a potent hybrid of honky-tonk, bluegrass, singer/songwriters, classic country and modern rock & roll, forging his own sound along the way.
"I love the feeling of combining the best older stuff with the edginess of newer, more progressive sounds,"
says the prestigious CMA Horizon Award winner.
"I try to take the real life connectedness of the stories and songs of Hank Williams and Buck Owens, and then try to put a fresh modern sound to it."
After selling almost 5 million copies of his previous three studio albums, which included 10 top-lO singles and five No. 1 hits, most country artists with comparable achievements would be reluctant to veer off a proven hit-making path. Bentley is the exception. He shuns the comfort zone and welcomes the risk of what he refers to as "almost bringing the element of failure back into the mix."
"Iím not the kind of guy, who wants to go into the studio every two years and just keep puffing out more of the same because it has worked so far," says Bentley. "I really wanted to change our initial approach to the recording process.. .do it in more of a rock and roll, or an old outlaw kind of country way. Use your guys; go in the studio; take the clock off the wall."