Eric Church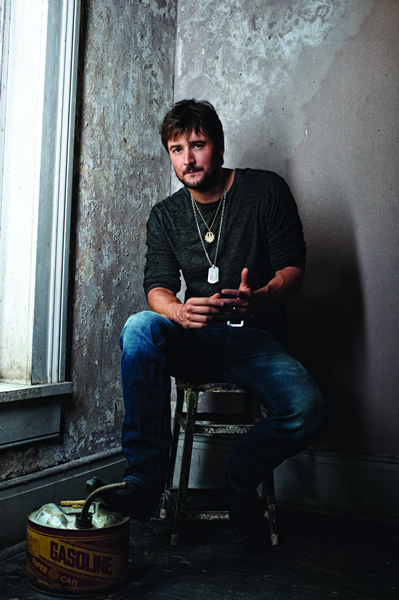 Eric Church Biography
When Nashville singer-songwriter Eric Church issued his debut Capitol CD in 2006, he was astonished when he took its songs on the road. Within months, a cult of rabid followers assembled, packing his shows, singing along to every word, driving hundreds of miles to see him and "spreading the gospel" of his extraordinary music.
The nation's music critics agreed with the fans. Sinners Like Me was lauded by The Los Angeles Times, People, Rolling Stone, American Songwriter and USA Today, as well as a host of country publications. The New York Times called it "a strong candidate for country album of the year." Its working-class anthems "How 'Bout You" and "Guys Like Me" rumbled with force and power. The unforgettably wry "Two Pink Lines" was about waiting for the results of a pregnancy test. "Lightning" was sung from the point of view of a condemned man being electrocuted.
Thanks to Eric Church's sizable fan base, Sinners Like Me made it into the Top 10 on the country album charts. Singles "Guys Like Me", "Two Pink Lines" and "How 'Bout You" introduced country radio and its listeners to the North Carolina-born songwriter. Brad Paisley, Dierks Bentley and even legendary rocker Bob Seger became fans and hired Eric as their opening act.
So how do you follow a masterwork like that? By creating another one.
Carolina, the sophomore album by Eric Church, is another collection of strikingly original songs and sounds. Reflecting the restlessly creative character of its maker, Carolina is even more musically diverse than its illustrious predecessor. "I wanted Carolina to go to some different places," said Church. "The first album was more aggressive and moody. This one is more diverse, more musical and a little brighter. I hope people can at least hear that we're still taking chances."
"So many people have come up to me because they've been exposed to Sinners. The number-one comment I get, especially from young people, is, 'I'm not really a country fan, but I like you.' I have to explain to them, 'You don't understand: Country is the coolest format there is. It's the most real format there is. We have the history, and we have the true artists.' I try to go out there on the road and be an ambassador for it, because I love country music so much, and I want to treat it right."
"Carolina is an album. So was Sinners. Most artists make singles and hope they end up with a record. I prefer to make a record and hope I have singles. I love country music, and I am very reverent of the time that I have to make records. That's what we owe the industry, the format and the fans. We owe them a great record."
"I make albums," Eric Church finished with a shrug. "I don't know how to do it any other way."