Eric Paslay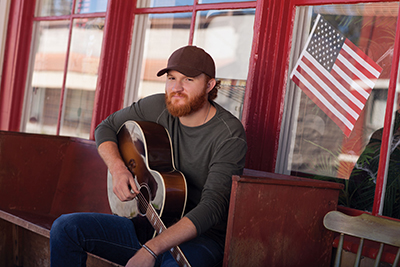 Latest News
Eric is releasing a special limited edition of his album 'Eric Paslay' with 5 bonus tracks. Out 6th October.
Eric Paslay Biography
Eric Paslay definitely knows how to craft a hit song. Jake Owen, Love and Theft and the Eli Young Band have all scored No. 1 singles thanks to Paslay's songwriting prowess, but fans who have seen him on stage will testify there is so much more to the tall, Texas redhead than his excellent songwriting chops. Paslay is a charismatic performer and a potent vocalist who knows how to connect with an audience. As his hit single "Friday Night" reaches the upper echelon of the charts, Paslay has arrived as an artist in his own right.
It all started for Paslay when he began playing guitar and writing songs at 15. "I wrote a poem for a girl," he recalls with a grin. "I never gave it to her and then I discovered that most songs are poems, so I just put a melody and chords to the poem and there was my first song. By the time I was 16, I'd already made a CD on my home computer of about 10 or 11 songs that I played out around Texas. Those records will come back and haunt me someday, but I know there are little jewels in there. I'm glad that I wasn't too afraid to put it out there, just to start creating music and sharing it with people."
Born in Abilene, Texas and raised in Waco and Temple, Paslay has always loved music, but his original intent was to become a pediatric endocrinologist. "I have diabetes and I thought I could help kids with diabetes because I could relate to them and talk to them," he says, but music has always been in his blood. "My granddad was a musician. He and his brothers had a band called Arnold Schiller and the Moonlight Serenaders. My grandfather was Arnold, and they played at dance halls. I was two and a half when he died. The first time I played the Grand Ole Opry, I closed my eyes and thought of him."
When Paslay moved to Nashville to pursue a music career, his first stop was Middle Tennessee State University where he majored in music business. He became president of MTSU's student chapter of Nashville Songwriters Association International (NSAI). He recruited top Music Row writers to speak at the university. He also volunteered for anything just to get his foot further in the door and did everything from help out at a charity golf tournament to change light bulbs in the NARAS office, a feat made easier because of his 6'4" height. "I'd just go help anywhere I could because I thought if you have a job to do and you do it well, then if they let you be creative and make a record, at least they know you're going to do it well," Paslay says. "They'll know you are going to put all your mind, strength and skill into doing whatever job they give you."
An internship at publishing company Cal IV Entertainment proved to be a valuable step for the budding songwriter. He not only learned about the publishing business, but the craft of songwriting, eventually landing his own deal with the Cal IV in 2006. His songwriting and his impressive voice began garnering attention from labels and he signed with EMI Records Nashville.
These days Eric Paslay has moved from the back of the room to center stage. "It's like someone flipped a switch on and people know what I do now," he says with a smile, "but the coolest thing is there's always that moment that you dream of when you have a hit song and you can stop singing and the audience keeps singing it. With 'Friday Night,' that's started to happen. I'll sing 'I want to be your..' and I'll point to the crowd and they'll go 'Friday Night!' That's one of those moments that every kid dreams about - singing a song and the crowd knows it so well that they sing it back to you. You get to sing it together. I'm glad I'm getting to experience that as a performer. To have a hit that radio has played so much that people are singing back to you, it's pretty cool."