Faron Young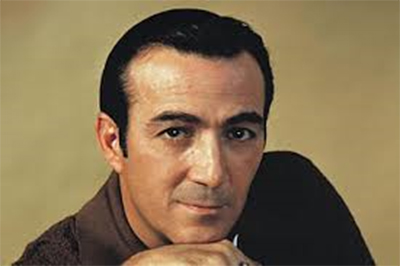 Latest News
'Wine Me Up - The Best of The Mercury Years' out now.
Faron Young Biography
A central figure in the 1950s honky-tonk movement and a key player in the transition from country music's rough-hewn, postwar roadhouse sound to the more embellished Nashville Sound of the 1960s and early 1970s, Faron Young was one of country music's most infamous hellraisers. He lived a life characterised by episodes of violence and open-hearted generosity. Stories of his drinking, fighting and female trouble are legendary. During an illustrious and sometimes stormy career he amassed 89 country chart entries: five number ones, 19 top fives, 17 top 10s and 16 top 20s. Not to mention several that crossed over to the pop charts, and was one of a handful of American country acts to make an impact on the British pop charts with 'It's Four In The Morning' in 1972.
Born in Shreveport, Louisiana, on February 25, 1932, he was known in his early days as the ''hillbilly Heartthrob' and the 'Singing Sheriff.' He was one of the most popular honky-tonkers to appear in the wake of Hank Williams' death, partially because he was able to smooth out some of the grittiest elements of the music and make it more palatable for non-country listeners. Signed to Capitol Records in 1952, at first, he balanced honky-tonk with pop vocal phrasing and flourishes. That combination of grit and polish resulted in such Top 10 country hits as If You Ain't Lovin' (You Ain't Livin'), Live Fast, Love Hard, Die Young, Sweet Dreams, Alone With You and Country Girl. In addition to recording, he began appearing in films, starting with 1955's Hidden Guns. Over the next few years, he was in no less than ten films, including Daniel Boone, Road to Nashville, Stampede, A Gun and a Gavel, That's Country and Raiders of Old California.
Faron's first session Mercury session took place at the Columbia Studios on Nashville's famed 16th Avenue South in December 1962, just a couple of months after his final Capitol recordings. From that initial session came the western-themed The Yellow Bandana, a Marty Robbins-inspired song that rose to number four on the country charts in the spring of 1963. Production was handled by Shelby Singleton with the cream of the Nashville A-team providing the smooth accompaniment-Harold Bradley, Jerry Kennedy, Bob Moore, Buddy Harman, Hargus Robbins plus newcomer Ben Keith on pedal steel.

On Valentine's Day 1963 Faron returned to the Columbia studio for his second Mercury session with Jerry Kennedy handling production. He recorded four songs, including Nightmare and We've Got Something In Common, which were to be his second and third Mercury singles. This time the twin fiddles of Buddy Spicher and Johnny Gimble were added to mix along with Charlie McCoy (harmonica) and the pedal steel of Lloyd Green with the Jordanaires providing the pop-flavoured vocal chorus to the songs, both of which made the top 20 in 1963.
Shelby Singleton returned to the producer's chair in August for the session that produced You'll Drive Me Back (Into Her Arms Again), a top 10 hit in early 1964 with Pete Drake's haunting pedal steel and a short spoken interlude by Faron. Two month later, on October 10, 1963, Faron recorded Keeping Up With The Joneses and No Thanks, I Just Had One, a pair of classic country duets with Margie Singleton (Shelby's singing wife). Paired as a single, Keeping Up With The Joneses returned Faron to the top ten, making number five in the summer of 1964.
At the end of October 1963 Faron spent two days in the studio recording tracks for the January 1964 album STORY SONGS FOR COUNTRY FOLKS. Rhinestones and The Old Courthouse, were released as a single from the album in late summer with the former reaching number 23 on the country charts. By this time Faron had began to explore a number of different business ventures, including a Nashville-based racetrack and helping to run the country music publication Music City News, which he had co-founded in 1963.
Throughout 1964 Faron was busy in the studios and in early April he started work on his next album, COUNTRY DANCE FAVOURITES, which was released that July. Alongside such country standards as Honky Tonk Song, She Thinks I Still Care, San Antonio Rose and Till I Waltz Again With You, he recorded a superb honky-tonk version of the Drifters' Save The Last Dance For Me. With the fiddles of Johnny Gimble and Buddy Spicher working alongside Lloyd Green's pedal steel, Hargus Robbins piano and Grady Martin's lead guitar this turned out to be a master-stroke of classic country.

Faron also recorded two more duets with Margie Singleton, Another Woman's Man - Another Man's Woman and Honky Tonk Happy on July 9, 1964 at a session that also produced the single My Friend On The Right, which made number 11 on the charts later that year. By the end of the year Shelby Singleton relinquished his production duties and Jerry Kennedy took over. His first session in charge that November produced Walk Tall, a top ten hit in early 1965.
He returned to the top of the country charts for the first time in ten years when It's Four In The Morning topped the chart in early 1972. The Jerry Chestnut ballad was recorded on September 28 1971 in the Mercury Studios in Nashville with no less than five fiddle players-Buddy Spicher, Johnny Gimble, Red Hayes, Henry Husinger and Jim Buchanan-to create a somewhat lush, but suitably country sound behind Faron's smooth, yet impassioned vocals. It was a great production and superb performance and deservedly presented Faron Young with a UK pop hit, resulting in him crossing that Atlantic to guest on Top Of The Pops.

Further country top ten hits followed with the schmaltzy and sugary This Little Girl Of Mine, the string-laden Just What I Had In Mind and mid-timpo Some Kind Of Woman, in between he released the more countryish She Fights That Loving Feeling, which peaked at number 15 in the spring of 1973. Gradually his singles failed to make a big impact, despite the fact that he was still recording quality song material like Feel Again, I'd Just Be Fool Enough and Loving Here And Living There And Lying In Between. Due to his lack of success, his visits to the studio became more infrequent, his last Mercury session taking place on June 23, 1977 in Nashville when he recorded three songs-Merle Haggard's Always Wanting You, Conway Twitty's Linda On My Mind and Bill Anderson's City Lights-all included on THAT YOUNG FEELIN' his final Mercury album released in late 1977.
The following year he signed to MCA Records in the hope of regaining some momentum for his fading recording career, but unfortunately none of his singles for the new label reached the Top 40. For most of the 1980s, Faron Young performed concerts, maintained his business interests and appeared on television-in short, he was acting like the country music statesman he was. In 1988, he briefly returned to recording, signing with the independent Step One Records. After that brief burst of activity, he retreated to semi-retirement, occasionally making concert appearances. He was stricken with a debilitating emphysema. Depressed by his poor health, he shot himself on December 9, 1996 and passed away the next day. Though he was under-appreciated toward the end of his career, Faron Young was a ground-breaking vocalist during the 1950s, and he remains one of the finest honky-tonkers of his time.