George Strait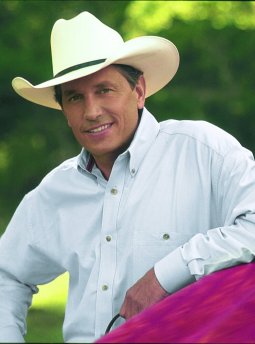 Latest News
"Cold Beer Conversation" Out Now.
George Strait Biography
George was born in Poteet, Texas and grew up in Pearsall, Texas. His father, John Strait, was a junior high school mathematics teacher. The Straits would often leave Pearsall on the weekends and the summers to work at the family's 2,000 acre cattle ranch outside Big Wells, Texas. When he was in fourth grade, Strait's parents divorced. His mother left the family taking his sister with her while he and his brother remained with his father. He began playing with a rock band in high school, but his preference turned to country music. Strait counts country singers Merle Haggard, George Jones, Bob Wills and Hank Williams as his early musical influences.
After graduating from high school, Strait enrolled in university but dropped out and eloped to Mexico with his high school sweetheart, Norma. They repeated their vows in a church in Texas a few weeks later. In 1971, he enlisted in the US Army. During this stint in military service, he began performing with an Army-sponsored band, Rambling Country (who played off the base under the name Santee), when he was stationed in Hawaii. In 1972, while still in Hawaii, George and Norma had their first child, Jenifer.
After leaving the army in 1975, Strait returned to his studies, enrolling at Southwest Texas State University (SWT) in San Marcos, Texas. He graduated in 1979 with a degree in agriculture. While attending SWT, he joined the Ace in the Hole Band. The band played honky tonks and bars around south and central Texas and as far east as Huntsville and Houston. They gained a regional following and opened for national acts such as The Texas Playboys. In the late 1970s, the band recorded several singles in a Houston studio that were released under the Dallas, Texas based "D" record label, but the band ultimately failed (though they do still play as George Strait's touring band under the same name). While playing withthe band at night, Strait managed a cattle ranch during the day.
An operator of one of the bars the band had played had connections at MCA Records. In 1981, Strait went to Nashville, Tennessee to team with MCA and try a solo act. Strait has stayed with MCA throughout his career. It was also in 1981 that his and Norma's second child, George Jr., was born.
"Unwound" was his first single and his first Top Ten hit. This was followed by "Down and Out" and then a whole series of #1 singles, beginning with "Fool Hearted Memory" in 1982 (see 1982 in country music). He was one of the best-selling country singers of the 1980s, and one of the few from that decade who survived the influx of pop-country singers like Garth Brooks in the early 1990s. As of April 2006, Strait has had 40 #1 country singles on the Billboard Chart. Including Radio and Records Chart, Strait has a total of 52 #1 songs. He also holds the career record for Country Music Association (CMA) nominations with seventy-three. Strait was the top touring country act of the 1990's and remains one of the most played artists on US radio. Strait's 1995 Box set "Strait Out Of The Box" is the 2nd best selling box set ever with shipments of 8 million in the United States. From 1997 through 2001 Strait headlined the "George Strait Country Music Festival" which included artists such has Tim McGraw, Faith Hill, Kenny Chesney, Alan Jackson and many more.
Strait has acted in two feature films. He had a bit part in The Soldier (1982) and starred in Pure Country (1992). He also appeared as himself in The Horse Whisperer (1998) and Grand Champion (2002).
Since 1983, Strait has often appeared at the Houston Livestock Show and Rodeo and recorded his album For the Last Time: Live From the Astrodome the last time the rodeo was staged at the Astrodome in 2002. The event set the record for paid attendance at the Astrodome with 68,266 people. The rodeo event moved to Reliant Stadium in 2003. In 2004, Strait topped the Astrodome attendance with 68,679 people coming to his rodeo concert at the larger stadium. Strait has played to more than 1 million fans at the Houston Rodeo. Strait again played the Houston rodeo February 28, 2006. That night he watched his son Bubba rope in the rodeo before taking the stage.
As pastimes, Strait enjoys fishing, playing golf, and riding motorcycles. He and George Jr. are avid team ropers and Strait hosts the annual George Strait Team Roping Classic. He and Norma live in far northwest San Antonio in the wealthy gated community The Dominion as well on a ranch near Cotulla, Texas some 50 miles southeast of San Antonio. Sadly, his daughter Jenifer was killed in an automobile accident in 1986, at the age of thirteen.