Hank Williams Jr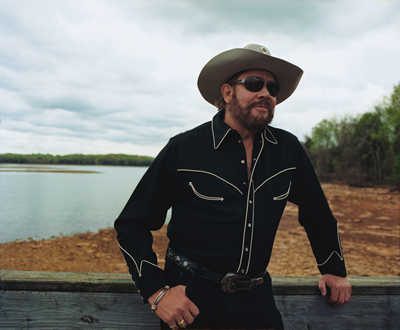 Latest News
'Old School New Rules' out now.
Links
Hank Williams Jr Biography
So you think you know ol' Bocephus? Well, get ready for the most outspoken, controversial, flat-out rowdy Hank Williams, Jr. album in years with Old School, New Rules. A clearly energized Hank tackles 11 new songs-10 of them self-penned- with a vigor and sense of purpose that makes ample use of his remarkable musicality, instantly recognizable vocals, and always-present charisma.
The ideas for the songs that became Old School, New Rules flowed like a river, and Hank started churning out songs quickly-on an iPad these days. "When I came up with that line, 'they made a huge miscalculation about the mood of this nation," he says, citing a lyric from the impeccably titled "Cow Turd Blues," "I thought, yep, time to get the iPad out and put this down. I really got pretty motivated.
Hank's not pissed off, he's just..concerned, shall we say, about the state of affairs in America. The nightly news gives him plenty of fodder to get those creative juices flowing. "Horrible economy, lots of problems, one of the worst presidents we've ever had, people out of work, this whatever you want to call it, redistribution of wealth. I call it socialism and Marxism myself," he says. "This is a record for its times."
And these days, after working within the confines of the major label system for more than 70 albums, Williams is now free of all restraints and making use of his own Bocephus Records, with a licensing deal with Blaster Records under a Warner Music Nashville distribution deal, as a platform for some of the most powerful songs of his lengthy and hit-studded career. So add "label head" to his long list of accomplishments.

"I'm an executive CEO, man!," Hank says with a laugh. "I'll take you fishin", take you on tour, sell $100,000 in t-shirts, whatever, I'm a multi-talented dude. It's fun, it's real."
Williams has been storing up a cache of songs, and now he's ready to release them on his own imprint. "I saved a lot of stuff back. "Keep The Change" was the fastest downloaded country song in history, #1 on amazon.com the second day. That was a good way to start. People asked me, "where'd this come from?" Oh, I just had it stuck away in the bottom of the guitar case."
Hank sees plenty of targets for his ire these days, among them Wall Street, the White House, politicians in general, and the state of the nation, not to mention a couple of television networks and the untimely demise of a lengthy, Emmy-winning, 22-year relationship with Monday Night Football. And, of course, everybody knows that as an avid sportsman, Hank Jr. generally hits what he's aiming for.
Though he has always been outspoken, Old School, New Rules boasts a completely unfiltered Hank Jr. Everybody knows Hank has lots of opinions about lots of things, but only a rare few could deliver those opinions in such an eloquent, powerful manner, with a traditional Hank sound that drives the message home in unforgettable fashion. Whomever he might be lambasting on a given tune, this is Bocephus at the height of his powers, and it concerns him little what the reaction might be, within the music world or outside it.
After all, this is an artist that has little to prove. Already possessing the most powerful pedigree in country music, Hank debuted on the Grand Ole Opry at the age of 11, and at 14 made his first record, a rendition of his father's "Long Gone Lonesome Blues." In 1970, he signed the biggest recording contract in the history of MGM Records, and when he began to follow his own music path, Hank's instincts led to him to phenomenal success. "Family Tradition," released in 1979, went Gold, kicking off a long string of gold and platinum efforts.
In October 1982, Williams had nine albums on the Billboard music charts at the same time, a feat unequaled by any other living artist. Hank has received 16 songwriting honors from Broadcast Music, Inc., had 10 #1 singles, 13 #1 albums, 20 gold and five platinum albums and a double platinum (Greatest Hits, Vol. I). In 1987, Hank won the first of five straight Entertainer of the Year awards voted to him by his peers, and won his first ever Grammy. As a touring artist, Hank was a pioneer in bringing arena rock production values to country music, and he remains one of the most consistent ticket sellers in music, period, as generation after generation gets turned on to one of the most dynamic live performers ever to take the stage.
Williams' life has been a series of breathtaking highs and unbelievable lows-a fall from Ajax Mountain in Montana in 1975 nearly killed him, but Williams re-emerged hell-bent on making serious music his way. Hank has been to hell and back, constructing his own trailblazing musical legacy to sit alongside his father's. So if certain folks don't agree with Hank's take, well, "I'm more concerned about whether the crappie are biting on Kentucky Lake," he says. "I don't approach my career that way, and never have. I'm not some 20-year old artist thinking, 'oh god, I hope I can kiss the ass of every program director out there so I'll get played.' That ain't me. Uh-uh. No."
But that's not to say Hank doesn't have plenty of support from like-minded people, whether they be his legions of fans or members of the country music superstar club. When Hank famously parted ways with ESPN and Monday Night Football due to his now legendary comments on "Fox & Friends," both his fans and several compatriots in the music industry came to his defense. Brad Paisley appears on Old School on the neo honky-tonk classic "I'm Gonna Get Drunk And Play Hank Williams," and fellow legend Merle Haggard shows up twice, on the righteously indignant "We Don't Apologize For America" and a Bocephus-ized re-imagining of the Haggard classic "I Think I'll Just Stay Here and Drink." Trace Adkins offers a line on the Harry Truman-quoting "Cow Turd Blues," which Hank jokingly calls, "one of the most beautiful love songs I've ever written."
"They're all real friends," Hank says of fellow artists who have shown support. "And having Haggard on there, that's sweet."
The fans, of course, have always voiced their support in all manner of ways (his Facebook page recently surpassed 1 million likes), not the least of which is by turning out by the thousands to his incendiary live shows. They also communicate, and Williams says input from the people of this country were a source of inspiration in writing the album. "I am the voice of all those letters and all those people that said, 'we are behind you 100 percent. We're starving and these idiots are out there playing golf, high-fiving each other,'" he says. "I am their spokesman, their mouthpiece, and it's a really good feeling, that's all I can say."
While the views expressed via certain songs on Old School, New Rules may be controversial, they are unfailingly patriotic and unabashedly sung from the heart. And, whether the songs are overtly political or not, Hank never sacrifices his high musical standards to make a point. This is an artist who knows who he is. "I'm not searching for myself or looking for my sound, ya'll," he says. "I found that a long time ago."
Hank rips a few new ones on Old School, whether it's the networks and politicians on "Takin' Back the Country," what he terms as "America haters" on the troops-supporting "We Don't Apologize for America," ill-advised government policies on "Who's Takin' Care of Number One," (dedicated to "every working man and woman in this country, and everyone that's trying to run a business and is constantly punished, taxed and regulated by the federal government"), or Wall Street scammers on "Stock Market Blues."
But not all the material on Old School is politically charged. "Old School," one of the album's many highlights, pays homage to the country legends who gave Hank a personal musical education, and is a song only Hank could write truthfully. "That Ain't Good" takes a swampy, compelling dive into one man's personal struggles, and Hank lightens things up considerably with the hilariously misguided attempt at romance on "3 Day Trip," which, to be clear, is embarked upon with a "one-day woman." Elsewhere, the thumping "Cow Turd Blues" owns a legacy far deeper than its title might suggest, but Hank delivers the song with a sly sense of humor and jaunty melody.
"Sometimes when it gets so bad, you've just got to laugh about it," Hank says. "I do like to make people laugh, too."
So the laughs are there, yes. But the music on Old School, New Rules, Williams' trademark blend of traditional country, blues, Southern rock, is seriously good. This Old School is in a class by itself.