Holly Williams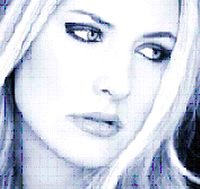 Latest News
'The Williams' dynasty that began with country giant Hank has made it to a third generation. Holly has also inherited her grandpappy's writing genes and will delight lovers of Aimee Mann and Ron Sexsmith with sharp bright songs and an individual touch.
Holly Williams Biography
"I'm such a blatantly honest person"
says
Holly Williams
,
"and I love to listen to an album and think the artist is truly sharing their life with me. I like to feel like I'm really getting in and knowing that person."
While she owns one of the most revered pedigrees in country music, Holly Williams is a completely original artist whose material falls somewhere between the plain-spoken loneliness of her grandfather, Hank Williams, and the restless iconoclasm of her father, Hank Williams Jr. Her debut album, The Ones We Never Knew Is populated with sparse, stirring ballads with captivating lyrics.
Though still in her 20's, Holly has been using music to tell the story of her life and those around her for the better part of two decades. Starting at age eight, Holly filled a notebook she called "Holly's song folder" with her own compositions, though the lyrical content was far beyond the comprehension of your typical elementary school student. The first of these songs, titled "Who Am I", told the story of a woman in her 20's facing a broken marriage. Holly's penchant for addressing life's ups and downs through song was clearly established at this point, as was her songwriting method.
"The way I wrote then is the way I write now. A song comes to me in its entirety. The chorus and melody come at the same time, but I didn't really sing my songs for many people back then. It was just kind of the first hints of what I would do later."
As Holly grew older, her interests ranged from modeling and fashion to interior design. Her love affair with songwriting came back to the forefront at age 17 when she picked up a guitar, learned a few chords, and discovered her gift for crafting music and lyrics was still very much intact. As her high school friends continued on to college, Holly took a different path -- striking out on her own to make music. Giving herself one year to pursue her dream, Holly began booking shows for herself around Nashville at age 18.
That one year turned into three with Holly playing shows by herself and with a small band. Following a three-month stay in Los Angeles where she honed her songwriting skills and mastered the piano as a second instrument, Holly accepted an offer to tour Europe with Canadian artist Ron Sexsmith.
"I flew over there with a guitar and a backpack full of five-song EP's I'd made and took trains to each venue" says Holly. "It was killer. I had just read Jack Kerouac's novel On The Road, and it changed me. I was traveling along, soaking up every minute of it. I loved it."
Around this time, Holly began to realize the full meaning of her family's history in the music world. Though her father is country legend Hank Williams, Jr., Holly's time spent with her dad mostly took place when he was off the road and away from the spotlight. In turn, Holly never realized the influence of her grandfather Hank Williams Sr. until she embarked on her own musical explorations.
"The artists that I love are the ones that brought me back to him. When I started making music and writing songs, I heard people like Bruce Springsteen and Leonard Cohen talk about Hank Sr. I started listening to Bob Dylan, and he would talk a lot about Hank Sr. being an influence. It's funny how that circle happened."
Over the next few years, Holly's touring kept her on the road for months at a time with several more European tours rounding out her hectic stateside touring schedule. Sometimes driving up to 10 hours between gigs in her mom's suburban, Holly found herself sharing a bill with a wide range of artists including Billy Bob Thornton, Train, John Mellencamp and Duncan Sheik, in addition to playing a string of shows throughout Europe opening for Keith Urban. With five years of independent touring under her belt, Holly signed her first record deal in 2004 and released her critically-acclaimed debut album, The Ones We Never Knew, that same year.
With her career on the upswing, Holly's life was almost cut short when she and her sister Hilary were involved in a devastating wreck near Memphis in March 2006. Hilary's injuries were much more extensive than Holly's, and both were in critical condition by the time their parents arrived at the hospital. Looking back on the accident, Holly is truly thankful she and her sister survived. The events of that day forever changed the course of Holly's life and serve as the inspiration for one of Here With Me's most stirring tracks "Without Jesus Here With Me".
"Living through that wreck was a miracle", Holly declares. "My sister told me one mile before it happened to put on my seatbelt. I usually never would have put it on, but it saved my life. Even the fact that my arm is here is a miracle. The car was lying on top of it. We landed sideways and they thought when they pulled me out of the car that my arm wouldn't be going with me. But it was only broken. The whole experience was a real turning point for me."
In addition to making music, Holly has another outlet for her boundless creative energy. Building on her lifelong love affair with fashion and design, Holly opened the high-end clothing and accessories boutique H. Audrey in 2007, and H. Audrey Home in 2008, introducing new designers and brands to Nashville's retail scene.
"I've always had this business side that I've needed to fulfill. I actually get to travel to Paris twice a year for work which is crazy to me, and dress friends of mine and stylish musicians. Sheryl Crow, Patty Griffin and Faith Hill all have a great eye for fashion. I love seeing who wears what to award shows and concerts!"
Holly's stores have quickly become one of Nashville's hottest retail spots, but just one listen to Here With Me makes it clear that Holly's first love is and will always be making music.
She says, "When it's in the blood, you can't help it."