Jack Ingram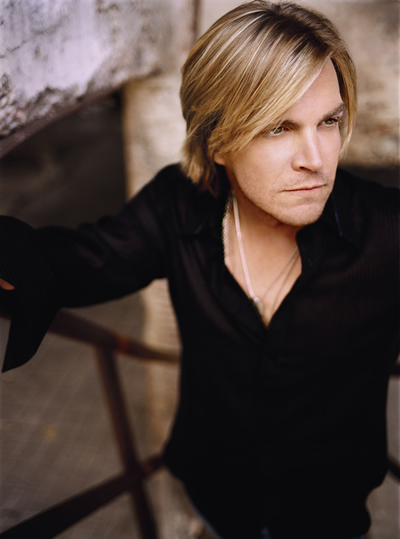 Latest News
no current news
Jack Ingram Biography
Around the time Jack Ingram started writing songs and performing, he was studying psychology at Southern Methodist University in Dallas. "Music and psychology come from the same place," he says. "It's about studying why people tick. I write songs to figure out my world, why people act the way they do, why they make the decisions they do."
Lucky for us, Ingram chose a career in music-and discovered an altogether different kind of therapy. He weaved his questions about life into songs whose depth and incisive wit were matched only by their melodic resonance and insistent hooks. And instead of charging a hundred bucks an hour to listen to our problems, Ingram took to the stage and channeled his emotional searching, his quest to find a place in the world, into one of music's most explosive live shows.
You can hear that onstage electricity in full roar on Live - Wherever You Are, Ingram's first release on Nashville's new Big Machine label. The company is the brainchild of industry vet Scott Borchetta and country superstar Toby Keith, in whom Ingram has found an unlikely kindred spirit. "He says what he means, he does it his way and he takes a stand," says Ingram. "It's great to be a part of that, because that's how I've always been as well. I know exactly who I am and what I want to sound like."
In addition to an exhilarating document of Ingram's onstage acumen, Live - Wherever You Are features two new studio tracks-his first since 2002's acclaimed Electric. One is the first single, the surprisingly tender "Wherever You Are." "It's a love story," he says, "about doing whatever it takes to get where you need to go and going through all the obstacles you have to go through."
The other new studio cut is the horn-laced "All I Can Do," a soulful assessment of a love gone wrong. "I've heard it said that you can't get into heaven with good deeds alone," explains Ingram. "Whether you are religious or not, that statement holds a lot of truth. Sometimes no matter what you do, you can't gain other people's faith. When the truth unfolds and you can look at a situation through clear lenses, sometimes you realize that you've done all you can do and it's time to move on."
One more freshly-penned tune, "Never Knocked Me Down," is included here in Ingram's performance from the recent CMT Outlaws 2005 TV special, and features label-mate Danielle Peck singing backup vocals. The tough-minded song was inspired in equal parts by a late-night viewing of Martin Scorsese's classic boxing movie Raging Bull and Ingram's own tenacious attitude toward the music business. A self-made cult hero with an astonishingly loyal and ever-growing following in Texas, Ingram has found himself on the wrong side of Music Row's timid conservatism during previous experiences in Nashville.
But with a label prepared to let him be himself, and a mainstream country environment more open to different sounds than it was a few years ago, Ingram considers his Big Machine debut his first legitimate shot at cracking country's mainstream. "A couple of years ago I started hearing songs on country radio that didn't make me go, 'Oh, come on!'" he chuckles. "They were about real stuff. Toby, Keith Urban, Brad Paisley-songs that had some depth to them, that weren't just ditties. It energized me. I realized there might be a place for me, and I don't have to change a thing. I can just be myself."
It's too late for Ingram to be anything else. The commitment to honesty and intelligence in his music was rock-solid from day one, formed during a childhood spent in Texas as the '70s "Outlaw" movement was in full swing. With the no-compromise examples of Willie Nelson and Waylon Jennings (whosei "Only Daddy That'll Walk the Line" gets a rousing workout on Live - Wherever You Are) before him, Ingram threw himself into music passionately and wholeheartedly.
"I never really played music for fun," he recalls. "It's a release for me, and it always has been. Not just playing it, listening to it. I remember going to sleep with headphones on in high school, listening to Willie Nelson. At some point, when I was 17 or 18 years old, I quit being able to listen to the music without seeing myself playing it. I wanted to be a part of it."
So he asked his friends who played in bands to show him a few guitar chords, and he was off. His first songs, he remembers, were "dear-diary journal entries," but he quickly grew more artful and canny. Soon, he worked up the nerve to ask for a Tuesday-night slot at Adair's Saloon in Dallas. "I didn't want my songs to sit in my room," he says. "I wanted to give them to other people and let them be affected by them, the same way I'm affected by other people's songs."
Affected they were. Ingram's Adair's crowd grew from random regulars who ignored the guy onstage to packed houses hanging on his every note. "It started with just four friends, my roommates and my brother," he laughs. "They told two friends, and so on and so on and so on. It finally became people I didn't know and hadn't met yet."
As Ingram's audience grew, he moved on to the Texas dancehall circuit-places like the legendary Gruene Hall, where Live - Wherever You Are was recorded. "In Texas dancehalls, you can get as outlaw honky-tonk as you want, or as quiet, singer-songwriter folk as you want," observes Ingram. He chose both, leavening the hard-charging attack of his crack Beat=Up Ford Band with introspective, thoughtful lyrics.
In 1993, he recorded a few songs and pressed them onto a CD to sell to the fans at his shows-largely college students. "I put it out in November and sold a few hundred of them," he explains. "Then they all go home for Christmas, and by the time they come back, your music has spread like a virus all over the country. I started getting calls from people in Alabama, South Texas, Louisiana, Oklahoma. That's how it spread."
Since then, Ingram's reach has grown steadily but surely. "Now it's ages from 6 to 60 at the shows," he says. "Hippies, outlaws, rednecks, preppies. It's a cross-section of America I'm looking at now." He has broadened his horizons to include his own annual "Real. American. Music. Festival" outside San Antonio, Texas, and his own weekly radio show that he hosts on one of the nation's biggest country stations, KPLX "The Wolf" in Dallas. This weekly show also airs nationally on XM Satellite Radio's channel 12. He's even branched out into acting, appearing as the romantic lead in friendLee Ann Womack's hit "I May Hate Myself in the Morning" video ("I guess I was just ugly enough to fit the bill," he laughs).
Now Jack Ingram is ready to-expand his audience even further, to reach all of America with his music—and finally, all the elements necessary to make that happen seem to be in place.
"I've always thought that if something seems too good to be true, it probably is," he says. "But I just can't bring myself to say this is too good to be true. It just feels really good, it feels very real to me. It feels right. This is just the beginning."