James Otto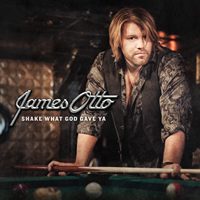 James Otto Biography
Otto hails from the great Northwest, which hasn't turned out a huge number of country stars, though it hasn't been for lack of local interest. "Country music is actually really big up there. I know when people think of Washington state they think of Seattle, but the side of WA that I'm from, which is the high plains/desert side, is all straight-up agricultural." Not that he isn't equally proud of being a Nashvillian, which you might guess from his ability to pinpoint the date he made the move ("thirteen years ago, August 4").
Otto was one of the cofounders of Nashville's genre-bending Muzik Mafia, whose weekly club shows in the early and mid-'00s were the springboard to stardom for pals like Big & Rich and Gretchen Wilson. "I had been one of the original founding members of Muzik Mafia, from the very first show, and that was where I started thinking I might still get a shot at making music the way I wanted to make it," he says. "It was very influential in my musical thinking, allowing me to be much more adventurous musically than any record label was going to let me be." Anyone who attended those historic shows knew about Otto's full range of influences. The most popular song in his set in those early days was perhaps the most R&B-inflected thing he's ever written-"Good Thing's Gone Bad," which Otto never put on an album until now.
But there was little evidence he'd head in this direction on his first album, Days of Our Lives, which was released on Mercury Records back in 2004.
By 2008, Otto was with Warner Bros. Records. His sophomore album, Sunset Man-co-produced by John Rich and Otto with several tracks produced by Rascal Flatts' Jay DeMarcus (Otto's brother-in-law) and Otto-had a lighter feel. That change wasn't just a cosmetic one. "When 'Just Got Started Loving You' came out, I think that people who knew the earlier stuff may have thought that it was not necessarily who I was. Actually, it was a good, honest reflection of where I was going." Besides the stylistic shifts, "I was living a totally different personal life by that point. In love with and newly married to my wife Amy, I was in a much better, happier place; we've been married now for five years and welcomed our first child, Ava Katherine Otto, into the world on Aug. 24, 2010. The changes definitely represented where I was at the time, and continue to be where my music is pushing me these days."
But whatever fraternity Otto falls into-whether it was Muzik Mafia in the mid-'00s or a Toby-led tour now-it's clear that he has a singular identity that doesn't exactly jibe with anything any other leading light in country music is up to. And that's all right with him. Where he soulfully leads, he believes others will follow.
"As much as there's all these different fractures of country music these days-you have pop country, rock country, traditional country, alt-country, and all these things in between-I don't know why country-soul couldn't exist right alongside it all." Shake What God Gave Ya is such a blast, spanning the spectrum from rump-shaking motivationals to pure romance, that even if Otto were country music's sole soul man, that'd be genre enough.