Josh Turner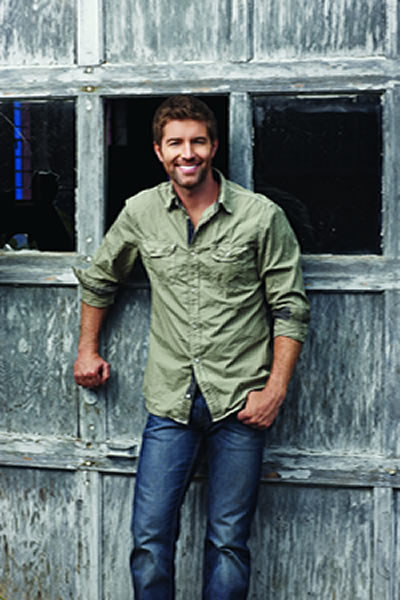 Latest News
Josh's latest album 'I Serve A Savior' out 26th October.
Josh Turner Biography
"The life that I live and the experiences that I have always affect what comes out of me creatively. I think that's what makes music real."
--multi-platinum MCA recording artist Josh Turner
Real life - including heartaches, happiness, fishing holes, and everything in between - has had a way of finding itself in the middle of Josh Turner songs since he first burst onto the national country music scene. It's those life experiences that keep drawing him back to what has become his unique yet easily identifiable country sound. "Growing up, traditional country music was always where my heart was at," he says, "because those songs were speaking about the life that I was living in rural South Carolina. It was all about love and work and life and just the everyday stuff that people go through. It has always made me feel good-- the melodies, the lyrics-- so that's what I'm trying to carry on." Turner's drive to "carry on" has led to his CD, Everything is Fine. The album is grounded in the traditional music from his grandparents' record collection he heard growing up, with the addition of fresh sounds that speak to today's music fans. Everything is Fine captured his personal music style more than ever. Nashville's first taste of that style came with his debut at the Grand Ole Opry in December 2001. The moment has become somewhat legendary in Opry storytelling circles. "When the curtain opened that night," the proverbial storyteller would begin, "no one holding a ticket to the show had ever heard of Josh Turner. But by the end of that chilly Nashville evening, the young singer was all anyone in the audience could talk about." Turner wowed the crowd with his self-penned "Long Black Train", the song that would eventually become his first hit. During this performance, the unknown baritone was showered with several standing ovations.
After being called back for an encore during which the audience rewarded him with another standing ovation, Turner remembers, "I was fighting back the tears out there. I couldn't think straight. I was tore up." Josh Turner's star began shining that night and hasn't dimmed.
Fast forward nearly six years: Turner has become a husband to wife Jennifer and a father to a son Hampton, all while quietly ascending the path to country music superstardom. Two of his singles-- "Your Man" and "Would You Go With Me"-- have become multi-week number one hits, he's an in-demand touring act, and he's a first-time nominee in the Country Music Association Awards' prestigious Male Vocalist category. Turner can also celebrate the success of first-class album sales. His debut album sold more than one million copies and his sophomore album, Your Man, was one of only four country albums to reach double-platinum status in 2006. His is also continuously heralded by critics as one of the brightest young stars in country music today and his voice has been compared to the legendary Johnny Cash. This status is marked by his recent invitation to be one the youngest members of the famed Grand Ole Opry. Turner was formally inducted by one of his Idols, Vince Gill, on October 27, 2007.