Julianne Hough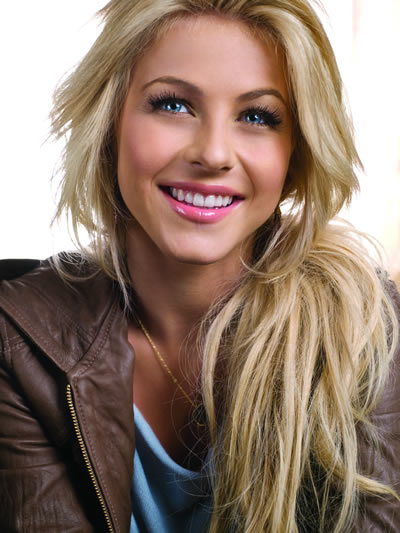 Latest News
No current news
Julianne Hough Biography
Every country artist once had a "day job" that commonly used music business term for an occupation that pays the bills and fills the void between hopeful aspiration and bonafide success. However, never in the history of country music has someone taken a more celebrated path on the road to their country music dream than Julianne Hough (pronounced "Huff").
A triple threat as a singer, actress and dancer, Julianne is already known to millions of fans as the two-time professional dance champion on ABC-TV's top-rated Dancing with the Stars (DWTS). The show, which pairs professional dancers with music, sports, film and television celebrities, has become a cultural phenomenon and Julianne its top star.
Though Julianne has been winning world dance titles since her early teens, her ultimate goal has always been a career in country music. Her newly signed deal with Universal Music Group Nashville (and Humphead Records in Europe) is providing her the vehicle to realize that dream. "I've always wanted to sing country music," says the 19 year-old blonde. "I've grown up with country music. I love how real everybody is, not just the artists, but the fans."
Growing up one of five Utah-born siblings, Julianne says her family was sometimes referred to as the "blonde Osmonds," earning a reputation for their talent and professionalism. At age 10 her parents separated and Julianne immersed herself in dancing. An opportunity presented itself to study performing arts in London, which started a period of intense training and being far away from family and in a fast-paced city, was forced to grow up fast.
After five years in the U.K., Julianne elected to leave behind a blossoming international career and move back to the U.S. "I really wanted to sing and I knew if I stayed in London, I wouldn't be able to do that; I would only be dancing, so I had to make a really tough decision: 'Do I stay here and pursue a career that I know I'm going to succeed at? Or do I go back home, start from scratch and pursue what I really want to do?' A lot of people told me that I was crazy and that I'd never make it."
Talent, discipline and determination are a potent combination that generally prove skeptics wrong, and that's exactly what Julianne did. She moved to Los Angeles, knowing she could earn her living as a dancer while pursuing her musical dreams.
She started making regular trips to Nashville in the rare time she had off from the TV show and the DWTS tour. Her Los Angeles management firm introduced her to management in Nashville, which led to her meeting veteran producer David Malloy (Eddie Rabbitt, Reba McEntire). The two teamed to record "Will You Dance With Me" for an American Red Cross fund raising project that benefited Kansas tornado victims. "It was so amazing," said Julianne. "We released the record to iTunes and Wal-Mart the week I won with Apolo. The song received quite a reaction on iTunes and peaked at #8 on their country charts despite never being released to radio."
Soon after, Julianne landed a deal with UMGN and a spot on the Mercury Nashville roster, a fitting home for a newcomer who cites McEntire and Shania Twain as her chief influences, both of which fall under UMGN.