Martina McBride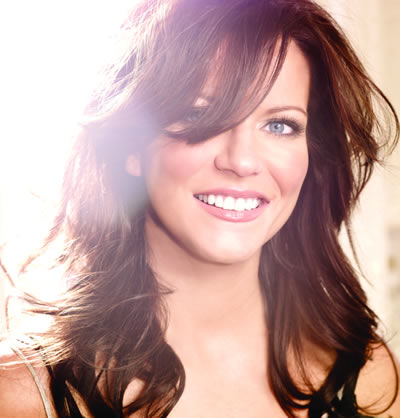 Martina McBride Biography
After two decades in the music business, Martina McBride is starting over. Now signed to Republic Nashville, with new management (Clint Higham of Morris Artists Management), a new co-producer (Byron Gallimore), newly-spotlighted songwriting skills (she penned over half the songs on Eleven, her new CD), and a brand new spirit of accomplishment, Martina is swinging into high gear. And she couldn't be more thrilled.
"It really feels like starting over for me -- but with a track record and with the success and experience I've had over the years," she explains. "I feel more mature and more confident, which comes with knowing yourself better. And there are a lot of opportunities now that I haven't had in a long time."
When her longtime contract with RCA Records expired in 2010,
Martina
revved up for new challenges ahead.
"There comes a time when you have to step back and say, I need something different,"
she says.
"It was a risk, but you have to do what feels right."
After weighing her options,
Martina
decided to join two year-old Republic Nashville, part of the Big Machine Records family of labels. "
We had a couple of offers that were really great,"
she notes,
"but what really drew me in the end was Scott Borchetta and his reputation. When I met with him and his staff, their enthusiasm and passion for music were so evident -- not only for the business but for the music. I really got the feeling that they get up every day and say, 'Wow! We get to be in the music business!' They have an innovative approach and such positive energy. It's contagious and something I wanted to be a part of."
At the same time, the Big Machine/Republic team was very vocal about wanting to help Martina make a great career record, even if it meant straying from the safety net of her comfort zone. "It wasn't about 'OK, let's sign her and we'll continue doing what she's done before' or 'let's see what happens,'"/i> she explains. "It was, 'We want you, and we want this to be the biggest record of your career.' To have that belief and confidence in me and to see a future that's even bigger than what I've had at this stage of my career was really exciting."
The feeling was mutual. Explained Jimmy Harnen, president of Republic Nashville, "Scott and I are big fans of Martina's. So when we found out she was looking for a new home, we didn't run after her -- we raced after her! An artist of her stature is timeless."
It was Big Machine's CEO Borchetta who planted the seeds for another Martina first: recording outside Nashville. "When I'm at home, I wear a lot of hats," she says. "I get to be a musician part time, but I'm a mom first, and I only get to focus on music a few hours every day. I thought Scott showed a lot of insight when he suggested I go somewhere else to record the new CD. It was a respectful way to say, 'You need to focus on the music if this album is really important to you."
With co-producer Byron Gallimore and a seasoned group of Nashville musicians in tow, Martina headed down to Atlanta's Southern Tracks studio in January of 2011 to begin work on Eleven. The start of the sessions coincided with an ice storm that shut the city down. "There was nothing to do there but make music," she laughs. "We couldn't go shopping, we couldn't go out to eat. Every day we'd slide across the parking lot from the hotel and work in the studio making music all day." The singer made sure to break the studio time up with trips back to Nashville to see her daughters, but being away from home for several days at a clip let her totally focus on the recording.
Perhaps the most significant aspect of Eleven is the fact that Martin herself co-wrote six of the 11 tracks on the album, something she's especially proud of. In the past, she admits she wasn't always secure about her songwriting, but this album has brought her newfound confidence.
"I love songwriters, and I'm not an artist who thinks I have to write everything I record. But people were encouraging me to write and songwriters seemed to want to write with me, so I just decided to really focus and see what came of it. And because of that, this record shows a lot of different sides of my personality. I think it peels back a layer and let's people see more of my personality, especially the playful and fun side."
Martina's co-producer Byron Gallimore can't say enough about the singer's craft. "This was our first time in the studio together, and she was amazing. She has perfect pitch, delivers 100\\\%, and she brought her songwriting in on a level that she's never done before. People are going to look at this album and go, 'Wow, she wrote that one? And that one? And THAT one??!"
"Teenage Daughters," Martina's debut single for Republic Nashville, was released the week after Country Radio Seminar, and fans immediately recognized Martina's personal stamp in the lyrics. The viewpoint clearly echoes the highs and lows of being a mom with unpredictable teenage daughters and struck a deep chord with fans of all ages. Her follow-up single, "I'm Gonna Love You Through It," wasn't penned by the singer but touched Martina personally the very first time she heard it.
"It's such a powerful song. The first time I listened to 'I'm Gonna Love You Through It,' I was moved by what it says," Martina explains. "I thought immediately, 'This song is going to help someone.' I had the same reaction to it that I did the when I heard 'Independence Day' for the first time. Even though I haven't gone through anything like this with someone close to me, I still feel like people listening to this song will find some hope or the words to say what they're feeling. When I played this song for my husband John, his first reaction was, "That's what I would want to say to you.'" The song's video showcases cancer survivors and their supporters as they courageously live their lives. Among those appearing in the video are singer Sheryl Crow, "Good Morning America" anchor Robin Roberts, "Today" show anchor Hoda Kotb, and well-known television journalist Katie Couric.
As for the superstar herself, she's frankly exhilarated by the chance to experience what she calls first-time opportunities the second time around. In a career that's already taken her to breathtaking heights (four CMA Female Vocalist of the Year trophies, three ACM Female Vocalist awards, a GRAMMY win, numerous national magazine covers and features, and appearances on such shows as VH1's "Divas," "TODAY Show," "20/20," "American Idol" and "Dancing with the Stars"), Martina is ready to take it up a notch with the help of her new label.
On her bucket list: being invited to sing the National Anthem on the Super Bowl and landing a song in a movie so she can perform on the Academy Awards' annual Oscars telecast. But more than anything, she just wants to continue doing what she's doing. "My biggest desire is to keep making records and keep touring," Martina says with heartfelt passion. "I hope I get to do this for as long as I can, because I love it so much."