Phil Vassar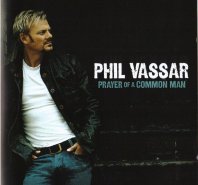 Phil Vassar Biography
Phil Vassar is a major force on the Country scene. ASCAP has named him Songwriter of the Year on two occasions and Billboard has hailed him as Top New Country Artist and Country Songwriter of the Year.
Phil has gained much attention through his knack for hit songwriting and his compelling and highly entertaining skills on the piano. He has sold millions of records both on his own and for other artists such as Tim McGraw.
His latest release Prayer Of A Common Man is co-produced by Vassar with Universal Records South President and noted producer, Mark Wright (Gretchen Wilson, Brooks & Dunn, Lee Ann Womack).