Statler Brothers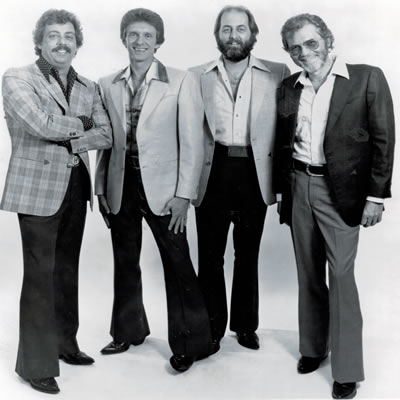 Latest News
The Statler Brothers album "The Definitive Collection MCA Years" is available now.
Statler Brothers Biography
One of country music's most popular and legendary groups, the Statler Brothers have long been associated with a certain meticulous attention to detail, an instantly recognisable sound and almost unflagging compositional quality. In a career that stretches back more than fifty years, they have sold more than twenty-five million records and have become the most awarded act in country music history, with three Grammys, nine CMA Awards, forty-eight Music City News Awards, thirty-two song-writing awards, and twenty gold, platinum, double-platinum, and triple-platinum albums among their more than five hundred honours.
The Statlers formed in the late 1950s, when male vocal groups such as the Four Lads and the Ames Brothers were pop music favourites. While they say they admired these acts, the Statlers maintain their aspirations were never toward pop. Even so, the first record they ever charted, Flowers On The Wall in 1965, went to number four on the pop charts, and also number two on the country listings. The song came back into popularity when used in the 1995 movie Pulp Fiction, and once again struck paydirt when country newcomer Eric Heatherly took it into country charts in 2000. From the start, the element that set the Statlers apart from their country peers was the content of their lyrics. These guys didn't sing about coal mines, cotton fields and making ends meet. Rather, they celebrated small town life, high school proms, western movies and other enthusiasms of the middle-class. The Statlers never were merely been a country group, they were basically a gospel quartet that sang and wrote country lyrics. They used everything they learned from the Southern gospel quartets and just put country lyrics to the songs. That is what made the Statlers a truly original country music act.
Named after a brand of tissues, the Statler Brothers originally consisted of Philip Basley (baritone), Don Reid (lead), his brother, Harold Reid (bass) and Lew DeWitt (tenor). Harold, Lew and Phil began singing together in 1955 at Lyndhurst Methodist Church in Staunton, Virginia. Some five years later, Harold's younger brother Don joined the group, then known as the Kingsmen, and became the front man. The quartet passed an audition to become part of the Johnny Cash Show in 1963. At this point, they changed their name to the Statler Brothers, after espying the name Statler on a box of tissues in a hotel room. They remained on the road with Cash for the next eight years and were signed to Columbia Records in 1964. They made a breakthrough instantly with the DeWitt-penned Flowers On the Wall, the next year, and enjoyed further success with the top ten country hits Ruthless and You Can't Have Your Kate And Edith, Too in 1967. Though they recorded several albums for Columbia, there seemed to be a complete lack of musical direction as they flirted with gospel, updated pop hits and country standards, but very few group originals. In some quarters, the Statlers were not even considered a bona fide country act. When the Columbia contract expired, they simply walked across the street and hooked up with noted session guitarist Jerry Kennedy, by then head of Mercury's Nashville operations and a highly successful producer. Their first Mercury release, a group original, Bed Of Rose's, was an instant country top ten entry that crossed over to the pop charts and finally gave them considerable country credibility.
For the next twenty years they were hardly absent from the country charts, and though not every single was a top ten certainty, the Statler's album sales remained consistent. They were first country act to re-direct listeners' nostalgia from rural to small-town life-writing most of their own songs, the Statlers scrutinised and often glorified the American small-town life of the 1950s, with its high school proms, cowboy movies, cool cars and youthful dreams. These passions were reflected in such hits as Do You Remember These, Class of '57, Whatever Happened To Randolph Scott and The Movies. Their wicked sense of humour also surfaced in their songs. In How To Be A Country Star, a Top 10 effort from 1979, they advised aspiring performers to: 'get a gimmick like Charley Pride's got.'
Among their other most memorable hit songs were I'll Go To My Grave Loving You, Do You Know You Are My Sunshine (their first number one in 1978), Who Am I To Say and Charlotte's Web. There were also other singles, slightly cleverer, lyrically and melodically, that though not finding favour at country radio, have become staples of their live shows and fan favourites. These include Monday Morning Secretary, Susan When She Tried, Maple Street Memories and Silver Medals and Sweet Memories. It is these songs that probably capture the true essence of the Statlers better than the bigger radio hits. They consistently released well-thought out albums such as COUNTRY MUSIC THEN AND NOW, SING COUNTRY SYMPHONIES IN E MAJOR, ENTERTAINERS ON AND OFF THE RECORD and a pair of gospel collections, HOLY BIBLE: OLD TESTAMENT and HOLY BIBLE: NEW TESTAMENT. One of the most polished concert attractions, they mixed intricate gospel-styled harmony singing, rural comedy and nostalgia-styled small-town Americana lyrics into a wholesome family-type show. The comedy was usually centred around the group's comic alias Lester 'Roadhog' Moran and the Cadillac Cowboys, poking fun at the old hicksville approach of country music. They even released an album, ALIVE AT THE JOHNNY MACK BROWN HIGH SCHOOL, a tongue-in-cheek effort recorded under the comic alias; though many laughed along with them, some country music fans took it as a put-down of the traditional country music of the 1940s and 1950s.
Due to ill-health, Lew DeWitt retired from the group in July 1982, though he did pursue a solo career, releasing the album, ON MY OWN, in 1985. He died from Crohn's disease on August 15, 1990. His place in the group was taken by Jimmy Fortune, a long-time friend of the Statlers. He not only brought a high, clear tenor singing voice to the group, but also a songwriting talent, penning several of their subsequent hits. These continued with the chart-topping Elizabeth, My Only Love and Too Much On My Heart, a revival of Hello Mary Lou, Atlanta Blue and Forever. While the hits started to become less frequent at the end of the 1980s, the Statlers maintained a very strong fan base. Throughout their career, the group have remained in their hometown of Staunton, Virginia. In 1991 they started hosting their own TV variety show on TNN, one of the most popular country shows of all time. Despite being TNN's highest-rated series, it was cancelled in 1999 after seven seasons for failing to attract younger viewers. As the mid-1990s rolled around, the Statlers came off the merry-go-round of radio airplay. After thirty-four studio albums for Mercury Records, the longtime hitmakers left the label in 1996. But Mercury did not cut them loose, their exit was a band decision. They still performed sold-out shows and due to fan requests for new material, decided to record a new album, SHOWTIME, for release on their own label, Music Box Records in 2001, coinciding with an 80-city US farewell tour as the following year they disbanded. The Statler Brothers have left behind a legacy of music second-to-none proving to be hugely influential on many of today's younger acts showing that you can dare to be different, make music on your own terms and be highly successful. Alan Cackett (editor of Maverick)