Jace Everett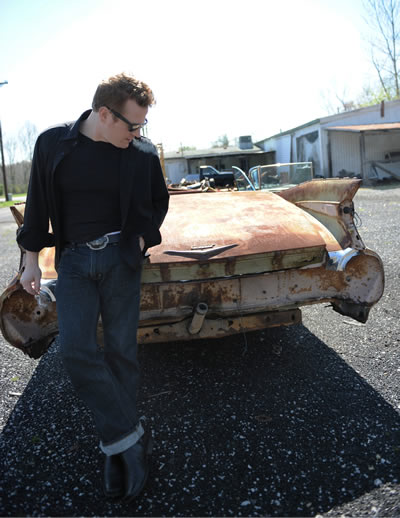 Latest News
Jace is Touring Summer 2019
June 18 - Manchester - Night People
June 19 - Glasgow - The Admiral Bar
June 20 - Sheffield - The Greystones
June 21 - London - Slaughtered Lamb

Jace Everett Biography
RED REVELATIONS, the new album by Nashville based singer songwriter JACE EVERETT, is a work of rare accomplishment and abandon, brimming with barely -contained emotions and urges. They are pervasive in the music, the voice and the songwriting. The primal, penetrating power of Everett's roots-music fusion, revving up from insinuation to howling gale-force rock in a second, has already started listeners wondering: So, where've you been, man? The answer is: Everywhere, and right in front of your nose.
Just "Google" Jace Everett's name and you'll find yourself knee-deep in the ooh's and ahh's of daily papers from Boston to Chicago and Seattle that can't discuss the second season debut of HBO's rocketing Golden Globe-honored drama TRUE BLOOD without mentioning the brilliant opening title montage, devised around the swampy rockabilly come-on of Everett's "Bad Things." True Blood creator Alan Ball's series and films, including Six Feet Under and American Beauty, have regularly made music cues into iconic characters.
As a result, over 10,000 viewers seek Everett's MySpace page daily, gluing him for months to the top spot among Americana artists on the site. And it's formed an international following that's eclectic, committed and not to be categorized - much like his music. For this broad fan base, RED REVELATIONS is the complete and proper-sized helping of the sly wit, mystery, sensuality, drop-dead charisma and musical substance they've enjoyed so much in their weekly cable-cast sample of him.
The songs of RED REVELATIONS are equally expressive in the language of blue collar realism ("The Good Life," "More to Life," "Permanent Thing," "Little Black Dress") as in the metaphor and heightened experience of poetry and film ("Burn For You," "One of Them," "Possession," "Damned if I Do") - and the album is shot through with striking emotional moments, seamlessly entwined with Everett's modern yet timeless handling of America's roots music, from blues to rockabilly, country, and rock. "After finishing the record, I saw that many of the songs turned out to be about monogamous romance and how difficult that is," Everett reflects. "Relationships in conflict. That happens in real life, when you have years together, and you have to stoke those coals."
Everett's music evokes the complex, vividly emotional and often over-heated works of Roy Orbison, Jerry Lee Lewis, Ray Charles, Jim Morrison and Marvin Gaye, among others, precisely because it so plainly springs from the same sources of inspiration, contradiction and risk. Indiana-born and Texas-raised Everett's upbringing in the evangelical church, and his far-flung travels are apparent in his songs: "The church is where I learned about music, played bass and did my first real public singing, and where the girls thought I was really cool. I've always been attracted to emotionally and spiritually mature themes - philosophically and musically. I was a father at 23, I've been in every grunt job in the world; I've been a preacher, a traveling musician, truck driver. I had adult responsibilities early in life, so I wasn't attracted to "let's party" music."
He continues, explaining the many influences on his versatile, powerful voice: "I love the way Willie Nelson never sings on the beat. And Ray Charles can do something with a note, just one: there's so much pain and love and sexuality. I took something from everyone I liked." As a songwriter, too, Everett's work displays the same supreme grasp of his sources: "I love Willie and Waylon; late-model Johnny Cash, Kris Kristofferson, Roger Miller, for their directness of lyric, and the common-day things and people in their songs. Also, the cinematic side of rock -- Peter Gabriel, Led Zeppelin, the urgency and hero-waving-a-flag quality of Clash and U2. In soul music, sexuality and spiritual redemption aren't opposites on the coin, but actually the same. I aspire to get all those things in one song: Intelligence, some power and energy, and a spiritual, sexual quality."
All of this accounts for Everett's unique resonance -- on record, on stage and combined with the visual work of other creative minds. Noting Everett's "great mix of menace, humor, wit and wild romance," True Blood music supervisor Gary Calamar told TV Guide: the choice of "Bad Things" was an immediate lock. "Against the opening sequence, it was wickedly bad-ass."
The twists and turns of recent years set up the creative take-off of RED REVELATIONS, Everett says. "I did one mainstream country-rock album in 2005 (Jace Everett, his debut for Sony Nashville), and I was tired of trying to make music for a specific demographic, and started making music for myself." The 2007 acoustic album Old New Borrowed Blues, cut live with just two guitars and an upright bass, was an album of "country-blues, soul songs if you will."
Unexpectedly, a track from his first album, "Bad Things," was chosen for True Blood, creating a new opportunity in the musical mainstream - after Everett had already left the major label. His plan for RED REVELATIONS proves again that having a chance is one thing; and knowing what to do with it, quite another. "I started writing with people like [album co-producer] Chuck Prophet, a hero of mine who doesn't put parameters on what he does. It was amazing to get to work with one of your heroes. True Blood made that possible." The results were both powerful and unfettered: "It's really free; there's hard-rockin' songs like 'Possession,' and almost a Pink Floyd flavor to 'Slip Away,' but when you put my band and my voice on, it has a cohesion I haven't had on a record before. Leave it to me to make an album in the age of the single..He laughs, knowing the truth)."
To convey the creative wholeness of RED REVELATIONS, Everett and his band performed the entire album live, in exact track order, web-casting the show on the eve of the album's release, from the stage of Nashville's latter-day landmark 12th and Porter nightclub. The paradoxical intimacy of the stage show and the border-less nature of web technology couldn't be a better fit for the boundary busting of this artist and songwriter. "I want to keep making music on my own terms, the only stipulation being to push myself, to make the best music I can at that time," he says. "I just made the best record I have ever made, and I have fans coming to my websites, sending me messages, asking me when I'm coming to their town. Music people are not as prejudicial as marketing people believe." On the cusp of a breakthrough moment, JACE EVERETT is satisfied to credit the acceptance of a non-formula album to a non-formula audience.